2010年04月09日
 Classic Tour Funboard 2010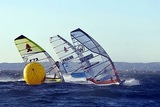 フランスのレースの大会で、RRDライダーのジュリアン選手が優勝したようです。X−FIRE112Lを主に使い、RRDスラロームボードの性能を実証してくれています。映像は
こちら
。
After a Tuesday marked waiting for wind in Carro, is on the spotof Marignane that everybody meet again on Wednesday for the final day of this round of Classic Tour Funboard 2010.
Unfortunately weather forecasts are confirmed with low wind and finally at 15h the race committee decided to call the end of the event, which ends with 7 slalom for women, 5 slalom for men, a complete Wave elimination in female but unfortunately a wave elimination that will never ends for men...
Julien Quentel climbed onto the top step of the podium with 3 victories in 5 races sailed.
He mostly used the RRD X-Fire LTD V2 112 and sometimes the 102, and he's really happy and impressed for the range and the performances of the 112 that always allows him to reach the best performances in quite any wind and sea conditions!
CONGRATULATION JULIEN!!!
---